Some of my recent posts could arguably be considered a touch controversial (I'm telling you, Scotland will beat England in the RWC). So this time I'm going to make a point that is absolutely in no way controversial. Rounds 3 and 4 of the Heineken Cup are objectively the best fortnight in the rugby calendar.
I fear I might be preaching to the choir a little here, but for my few readers who aren't big fans of the game trust me when I tell you that this is the time to tune in. Forget the Six Nations, it may be full of passion, but most of the time it seriously makes me doubt the title of my blog. The Six Nations is just too intense. The fear of making mistakes and the pressure cooker environment usually prevents it from being an impressive display of skills.
That is why club rugby is so exciting. It puts the best players in Europe in an environment where the pressure is not quite as high, and so the quality of rugby is better. Just look at this try by the Scarlets in round 1, there is no way this would have happened in an international.

I don't care how much of a purist you are, this is the kind of rugby everyone wants to watch.
The beauty of the Heineken Cup is that the stakes are still very high, the crowds are big and the atmospheres are great. In other words it's a perfect compromise between the intensity of internationals and the expansiveness of lower pressure domestic games. Besides, some of the games this weekend will have 25+ internationals on the pitch.
Rounds 3 and 4 are so special because the fixtures reverse, i.e. teams play each other twice in a row. The nature of tournament and the timing of the games means that losing both matches almost certainly knocks you out of the tournament, and winning both games usually leaves you in a strong position to get out of the group. There is just no better sporting poetry than getting an immediate opportunity to redeem defeat.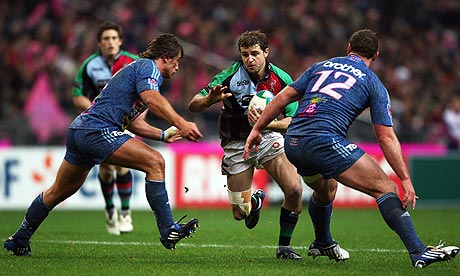 The 2008 ties between Harlequins and Stade Francais are the perfect example of how special this fortnight can be. Quins stole a shock victory out of nowhere in front of 80,000 in Paris and then followed up by beating Stade with possibly the most dramatic drop goal ever.This knocked out the Parisians and gave Quins a place in the last 8 (although perhaps in hindsight they'll wish that they had missed the kick as it gave them a place in the infamous bloodgate game).
If your a little unsure about rugby please give this next two weekends of the Heineken Cup a chance. Trust me, you won't regret it.